Von Braun's Midnight Madness
"Shelby"
December 9, 1991 - March 1, 1998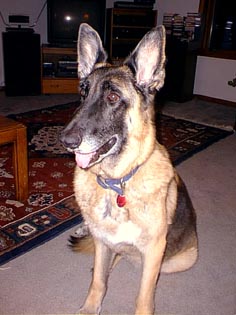 "Yet those who wait for the Lord
Will gain new strength;
They will mount up with
wings like eagles,
They will run and not get tired,
They will walk and not become weary"
-- Isaiah 40:31
Shelby, Susan and I are going to miss you very much. You were given to us as a very special gift when you were 7 months old. You came into our home in Oregon after living in a Kennel. You were shy and very unsure of yourself. But you became the best German Shepherd dog we have ever had the pleasure to share our lives with. You were always there at the door to greet us with your tail wagging and that little gleam in your eyes that was your trademark. You were always there right next to us when we were sick or feeling bad. You made the journey form Oregon to Wisconsin with us and settled right into your new home. You loved our home in the country, the fine walks and the companionship of your other pack friends.
Last November the cancer that took you away from us started. We did our best for you, and I know that somehow you understood this. You died in my arms dear lady, and at the end, you still had the wonderful grace and dignity that was you. You left us with many wonderful memories that we will cherish all of our days. My Dad is waiting for you at the Rainbow Bridge. He loved you too, go run and play with him.
We will all miss you very much.
David and Susan