Kamar's Rema
"Elsa"
December 6, 1988 - October 25, 2000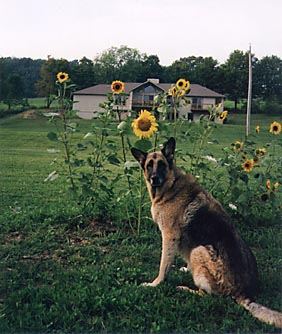 In memory of our beautiful ELSA.
Although we knew the time was coming, we weren't quite ready to say good-bye to you.

Now that you're gone, we miss you terribly, and we think about all the fun we had with you. We wonder, what was your favorite thing? Was it chasing cats, chasing geese, swimming and getting a drink in the pond, playing stick, playing baseball, visiting Aunt Sandy's, chasing the four wheelers, following the tractor, barking at the "mayor", fetching slippers, your nightly chewy, or just "Go for Walk"?

Whichever it was, one thing is for sure. Anything we did, you wanted to do it with us. Your fierce loyalty just amazed us. Bold and Cheerful- that was you. Our Pinnacle hike on your last Sunday was a treasure we'll always remember.

Now when we visit you down at the pond, we know you're there with all your animal friends. We hear the birds chirping, the squirrels scurrying, those pesky geese honking, deer tracks all around, and the creek flowing peacefully as you rest. We did our best for you, and you gave us your all. You were as good as they get. Miss you, Sweetheart.


-- Steve and Cheryl Eisenhard