Bo Bonner
"Bo"
January 18, 1999 - January 5, 2001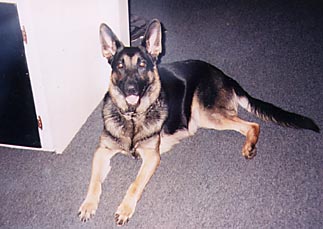 You were my first GSD, but definitely not my last. I knew I loved you, but had no idea how much until you were gone. You were always smiling - -You were the sunshine in every day, especially the cloudy ones. I never dreamed our time with you would be so brief. The things you didn't know, were most assuredly because we didn't teach you. I am sure you understood English, and I tried hard to understand your "language"! I so enjoyed our chats! Many times I wished I could be as smart as you, but never like your last day. If one of us had fallen through the ice on that pond, I know you would have found a way to get there. My prayer is that you knew how much we wanted to reach you. I've been told that you gave your life to save your younger charge - he had been begging us to let him go "ice skating". He now knows that danger much too well. For that, and so much more, we will always be grateful.

We'll never forget you.

-- Mom, Dad, the boys, Fritz, & Mittens